Fenstermacher in his pilot gear.
Robert G. Fenstermacher Jr. was enlisted into the U.S. Army on December 5, 1943 in Scranton, Pennsylvania. He joined the Army Air Corps 404th Fighter Group in the 506th Fighter Squadron. He served as a fighter pilot who mainly focused in the European Theater. His rank as First Lieutenant mostly dealt with being the elemental leader pilot or staff officer in communications, armament, etc. Lt. Fenstermacher completed a total of 54 missions before his passing.
The 404th Fighter Group, also known as the Tin Hornets, is part of the Ninth Air Force and the IX Tactical Air Command under the 84th Fighter Wing. Their main aircraft model used was the P-47 Thunderbolt, pictured to the left, and has the motto, "Igne Ferroque Hostem Armatum Contere" meaning "With fire and steel crush the armed(armored) foe." The 9th Air Force was established on April 8, 1942 and was catered specifically to lead the Battle of Europe and have a strong tactile pilot unit. 404th was originally stationed in Myrtle Beach, South Carolina before being moved to Europe.
The 9th Air Force played a vital role in the Battle of Europe and was responsible for:
1/3 of medium bombers
2/3 of fighter bombers
Total of 1,500 aircraft
Fenstermacher's particular squadron of 506th was focused bomb attacks in the far east from Chauny to the Oise Canal in West Belgium to Paris. The 9th Fighter Group had a big part in the pre, post, and during the D-Day Invasion on June 6, 1944, as they bombed railroads, bridges, waterways, enemy buildings/equipment, and enemy aircraft. They led bombing attacks in Western Europe, Middle East, and the Far East. Their main priorities were to destroy enemy planes and give air support to ground troops.
Fenstermacher posing with aircraft in his uniform.
The 404th Fighter Group's Emblem representing armor, weapons, personnel, and aircrafts/air attacks.
The 506th Fighter Squadron's team mascot, Pam the dog, with Captain Harry E. Anderson.
The Republic P-47 Thunderbolt was one of the most used and liked World War II aircraft for tactile ground-attack missions. It was the most heavily armed fighter plane in the war and had a good reputation of successful attacks. Thunderbolt conducted high-energy dives and could fly 1,725 miles, top speed of 435 mph, carry a total of 2,500 lbs. of bombs, and was equipped with 8 total machineguns.
A typical soldier in the 404th Fighter Group would carry:
The Winkton Airfield (image on the right) located in England was one of the many stations that the 404th Fighter Group and 9th Air Force used during WWII.
During a armed-reconnaissance mission against Germany, First Lieutenant Robert George Fenstermacher Jr. was killed after his plane was shot from the sky on December 26, 1944 in Petergensfeld, Belgium. Upon his crash, Fenstermacher's status was deemed Missing In Action as they could not safely search for his body. After deeming his body unrecoverable, Fenstermacher was moved to Killed In Action and was not searched for. That was until 2011 when a team decided to scout out the crash location and dig up the remains of the Lieutenant. On April 30, 2013, Robert Fenstermacher's body was identified and on October 18, 2013 his body was buried in Arlington National Cemetery, Arlington, Virginia. His grave is on Plot 60, Grave 10353.
Above: Headstone of Fenstermacher's grave in Arlington, VA.
Upper Right: Fenstermacher's name on the Wall of the Missing, Netherlands American Cemetery and Memorial at Margraten, Limburg, Netherlands.
Middle Right: Memorial gravestone in Abington Hills Cemetery, Lackawanna Country, PA.
Lower Right: The Noel House in Petergensfeld after Fenstermacher's plane crashed into it.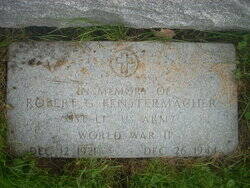 Create Your Own Website With

Webador